Our Planet
Our planet is not only covered in insecticides, pesticides and other toxic chemicals, but these detrimental substances are in the air, soil, our bodies and water supplies; 97% in America contain DEET! Each year over 200,000 people die from pesticide poisoning. DEET is the only pesticide allowed to be put directly on people's skin. It is hardly surprising that cancer rates are rising with all of this chemical bombardment on our bodies and the environment around us. Yes, bugs can be bad, especially when carrying deadly diseases but there is no need for this chemical overkill when there are natural, safer, alternatives.
"It is ironic to think that man might determine his own future by something so seemingly trivial as the choice of an insect spray." – Rachel Carson, author of Silent Spring
One of the reasons we started incognito® was to provide an insect repellent that was as effective as its chemical cousins but did not destroy mammalian brain cells or pollute the environment. In fact we are proud to say that our natural mosquito repellent spray is completely safe for our planet. All the ingredients in our natural insect repellent and indeed all of our products are 100% natural. Wherever possible we use organic essential oils or their derivatives, e.g. organic Java citronella. Where possible, our products are packed in the most sustainable materials. For example, our flagship insect-repellent spray uses post consumer recycled plastic which can also be recycled at the end of its life if not reused.
We feel passionately about our planet, as we explain in our ethics and our environmental policies. We truly believe that each and every one of us hold a responsibility to educate and empower those around us to make a difference.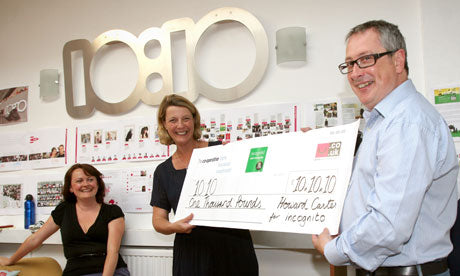 What can I do, I am just a single person?  Education and action is the key and to start you off we have a couple of bits and pieces we would like you to know about...
The Age of Stupid
The Age of Stupid is a 2008 film by Director Franny Armstrong (McLibel, Drowned Out) and first-time producer Lizzie Gillett. It is a co-production between Franny's company Spanner Films and Executive Producer John Battsek's (One Day In September) company Passion Pictures.
Oscar-nominated Pete Postlethwaite (RIP January 2011) stars as a man living alone in the devastated future world of 2055, looking at old footage from 2008 and asking: why didn't we stop climate change when we had the chance?
The film was released in 2009 and became one of the most talked-about films of the year. It also spawned the hugely successful 10:10 campaign.
You can help take action here at www.notstupid.org
The 10:10 Campaign

10:10 is an ambitious project to unite every sector of British society behind one simple idea: that by working together we can achieve a 10% cut in the UK's carbon emissions in 2010.
Why Bother?
Why bother jumping out of the way of a speeding car? Why bother removing a burst appendix?
Cutting 10% in one year is a bold target, but for most of us it's an achievable one. Here at incognito, we've reduced are carbon output so much we are carbon positive again; which is why we are the only London-based company to receive the Queens Award for Enterprise in Sustainability this year.
We now know for certain that unless we act quickly to reduce our use of dirty fossil fuels, humanity will face terrible problems in the years to come. Politicians are failing to do what needs to be done, so it's time for ordinary people to step in and show that we're ready to defend our children's futures.
By signing up to a 10% target you're not just supporting 10:10 – you're making it happen. In your homes, workplaces, schools and our hospitals, our galleries and football clubs and universities, we'll be backing each other up as we take the first steps on the road to becoming a zero-carbon society. It's easy to feel powerless in the face of a huge problem like climate change, but by uniting everyone behind immediate, effective and achievable action, 10:10 enables all of us to make a meaningful difference.
10:10 is the perfect opportunity to discover what's possible when we work together.